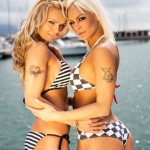 Sexual interactions between two women are an extremely beautiful thing. Unfortunately, there are a lot of misunderstanding and misinformation out there. A lot of people living in the UK and who comes from mainstream culture think and consider "sexual intercourse" as penetrative sexual interactions (where a penis from male partners goes into the vagina of female partners). So when two extremely beautiful women with vaginas are having sex, most of the folks in the UK don't understand how that works since there is no penis. They think that the woman can't have sexual intimacy with other woman or the sexual activity between two women will not be satisfying at all. In this post we will suggest some fun sex positions to clarify some common misconceptions and, of course to give hot women who enjoy having sexual activities with other women some really hot and tantalising ideas.
Position number 1# Reverse face sitting
Your partner can turn around while face-sitting with your female sexual partner. It will offer new angles to change up sensations on your partners G-spot and on the clit. Not to mention, you will get a great view of your partners' sexy butt if she is on the top of your face. In order to enhance your sexual experience and intimacy, the lesbian fuck buddy can also lean over in order to play with your clit or finger them passionately. You and your lesbian fuck buddies can switch sides. Moreover, this sexual position is perfect for 69 oral sexual activities (if you don't want to switch sides with your lesbian f-buddy).
Position number 2# All tied up sexual position
You will find lesbian buddies on different adult dating websites in the UK who are looking to experiment with something really new. In such cases, you and your casual lesbian buddy can try up basic oral by adding the element of bondage.
Before going down into her vagina, you can make use of bondage tape, scarf or even a rope to successfully restrain the hands of your partner. This added submission can take the oral sex with your partner to whole new level of intimacy and fun. Before using ropes to tie one partner, it is essential to figure out which of you is into dominance. In case, you both are not sure, you can switch off the position and tying each other up. It will help both the partners reach orgasm.
You should make sure to discuss this sexual position and activities with your fuck buddy beforehand to figure out each other level of comfort while having hot and intense sex. Talking to your partner beforehand will keep communication open throughout the sexual act as well.
Position number 3# Elevated missionary sex position with a strap-on
This sex position is similar to regular missionary position, except in this case the receiving partner places her legs upward. In addition, she will keep her ankles on the top of the shoulder of her partner. This variation helps to open up and allows receiving partners to get deeper penetration (in such cases, the giver partner will wear strap on). In addition to this, the slight variation in traditional missionary sex position will also better stimulate the G-spot of the receiving lesbian partner.  In most of the cases, this sex position results in body-shaking orgasm of the receiving partner.  If both the partners want to enhance the sexual intimacy and experience in this position, they need to make eye contact while having sex. Until the giver hit the sweet spot of her partner, lesbian fuck buddy can try experimenting with different angles. In addition to this, they can incorporate nipple or clit play for enhanced and added pleasure.
Position number 4# Kneeling sex position
Many experts believe that this position is sweet combination of doggy style and spooning sex position. In this really amazing sex position, one lesbian fuck buddy kneels, leaning back against the other, who is simultaneously fingering them. In addition to this, they may be stimulating the clit of their lesbian partner from behind. The intimacy in this sex position for lesbian partners is enhanced due to the fact that no partners were able to see the face of the other partner. Listening to the moaning sound will make both the partners extremely hot and horny. The fuck buddies will concentrate on the way it feels to touch warm and wet vagina or be touched, based on the preference of each partners.
If you are looking for hot and steamy sexual encounters with lesbian partners in the UK, then  you can enrol yourself to some of the reputed and genuine adult dating websites.